About Pall Roces Corporation
Company Profile - Pall Roces Corporation
We are Pall Roces Corporation, a company that specializes in providing a full range of water and wastewater solutions for industrial, municipal, commercial, and domestic applications.
We help our clients plan, execute, and complete projects on time and within budget by providing them with end-to-end services that include design, construction, engineering, civil works, consultancy, and technical assistance for water and wastewater facilities. In addition, we supply, install, perform commissioning and start-up services of various electro-mechanical equipment, and conduct onsite seminars for plant operators.
50 Years of Providing Clean and Safe Water to Filipinos
The Pall Roces story began in 1966 when our founder, Jose M. Roces partnered with Pall Corporation, a filtration, separation, and purification provider based in the United States. This made us a pioneer in the introduction of water disinfecting equipment in the Philippines.
The original partnership has since been discontinued, but the Pall Roces Corporation name remained. It is a name, which–for 50 years–has helped ensure that generations of Filipinos will have access to clean and safe drinking water.
Over the past decade, the needs of our clients evolved, which led to our transition from being a supply chain solutions provider to a specialty contractor that addresses the full breadth of our clients' water and wastewater treatment requirements.
Today, Pall Roces Corporation offers turnkey projects that enable our clients to work faster without sacrificing the overall quality of work. We make this possible by combining our strategic partnerships with overseas suppliers with our team of some of the most highly-skilled and talented people in the industry.
With offices in Metro Manila and Cebu, and a Mindanao office underway, we aim to expand further to better serve our growing clientele, and help provide greater access to clean and safe water to Filipinos.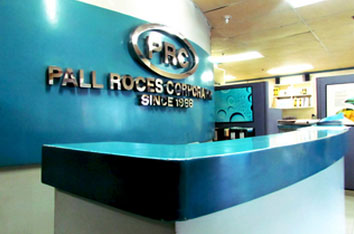 A Passion for Excellence and Great Service
Our ability to import parts and equipment from overseas means that our clients can get the best tools for their needs, when they need it.
We maintain an exclusive distribution contract with Denora Water Technologies, Inc. of Colmar, Pennsylvania, U.S.A. (formerly Severn Trent Water Purification, Inc.). It is an ISO 9001 certified company that provides gas chlorinators and accessories, liquid chlorine evaporators, water quality analysis and monitoring equipment, reverse osmosis, U.V. disinfection equipment, and on-site generating systems.
Aside from that, we distribute dosing pumps and controllers by LMI Milton Roy of Acton, Massachusetts, U.S.A., as well as various pumps and electro-mechanical equipment.
Our personnel also play a crucial role in our success. We currently have 45 employees in our Quezon City and Cebu offices, composed of sales representatives, technicians, engineers, designers, installers and administrative staff. Each one is highly-experienced and an expert in their field, allowing us to deliver exceptional work that our clients demand. Moreover, our employees are imbued with our values of providing honest work, clear and straightforward communication, and outstanding results, which translate to the exceptional brand of service for which we are known.
The passion for excellence and exceptional service that form a significant part of our DNA as a company have enabled us to serve some of the Philippines' top 7,000 companies in industries as diverse as food, beverage, and power generation. These companies include the Local Water Utilities Administration, Manila Water Company, Inc., Maynilad Water Services, Inc., Clark Water Corporation, Subic Water and Sewage Company, Inc., San Miguel Corporation, Asia Brewery Inc., and Mirant Philippines.
In addition, we are also a proud member of various organizations that include:
1. Philippine Chamber of Commerce and Industry
2. Philippine Business for Social Progress
3. Philippine Waterworks Association
4. Water Quality Association of the Philippines
5. Well Drillers Association of the Philippines
6. Water Treatment Industry Association of the Philippines
7. Philippine Construction Association of the Philippines
Our Mission
At Pall Roces Corporation, our mission is to help provide every Filipino with clean and safe drinking water.
We achieve this goal by providing our clients with only the best tools and know-how in the industry, as well as a team of experts and professionals that ensures projects are completed on time, within budget, and meets or exceeds our clients' expectations.
Our Vision
To be one of the Philippines' leading provider of end-to-end solutions for water and wastewater treatment applications.
By providing honest, straightforward, and unparalleled quality of work, we aim to bring better value to our clients, employees, and shareholders, and help give access to clean and safe drinking water to every Filipino.